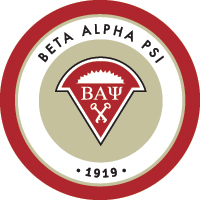 Beta Alpha Psi
Eta Alpha chapter
BETA ALPHA PSI:
Beta Alpha Psi is an honorary organization for Financial Information students and professionals. The primary objective of Beta Alpha Psi is to encourage and give recognition to scholastic and professional excellence in the business information field. This includes promoting the study and practice of accounting, finance, and information systems; providing opportunities for self-development, service and association among members and practicing professionals, and encouraging a sense of ethical, social, and public responsibility.
Upcoming Events

Initiations
& Intern Panel
Tuesday, April 22
4:30-6:30 PM
Student Union 200



Greer Walker


Volunteer Opportunity
Wednesday, April 23
1-3 PM
Friday Building

Accounting
Banquet
Tuesday, April 29
6-8 PM
Student Union 3rd Floor


Also check out our:

ETA ALPHA:
Eta Alpha Chapter was founded in 1984. One of our objectives is to provide a positive atmosphere for the academic, social, and professional growth of our members.